Arch Support® from Sixton
Reduce Pain & Increase Comfort

Importance of Arch Supports
If you're on your feet for most of the day then you know how important the fit of your shoes are to the comfort of your feet. You might even be experiencing foot pain or suffering from common foot problems already. Using arch supports will help reduce your foot pain and make walking & standing much more comfortable by distributing pressure across your arches and provide stability, balance, and support.
Keep reading to learn about the benefits of arch supports, types of arch supports, and how to find out which type of support is best for your individual needs.
How do arch supports help me?
For people already suffering from chronic conditions of the feet or persistent pain, arch supports can help alleviate symptoms and assist in recovery. Supporting the arch can have some of the following important benefits. Below, we will explain in detail the benefits of arch supports.
Benefits of wearing arch supports:
Provide stability and balance. Arch supports can help improve your posture and balance which can help reduce foot pain and problems related to imbalance of the spine as well as from a lack of proper foot support.
Reduce or prevent pain. Not all foot pain is from lack of stability. Arch supports can help reduce your foot pain or discomfort from standing for long periods of time.
Distributes pressure. Arch supports evenly distribute pressure across your feet and align your body.
Provide support. For those who require specialised support, their feet ailments may demand that they use artificial supports. These can help to alleviate pain and/or prevent further damage. This might be especially beneficial for those who suffer from plantar fasciitis (Plantar fasciitis is an inflammation of the fibrous tissue (plantar fascia) along the bottom of your foot that connects your heel bone to your toes).
Prevent your arches from harm. Arch supports also provide support to your arches which prevent them from collapsing. Once they collapse, the plantar fascia might stretch which could lead to painful foot conditions such as plantar fasciitis.
More Comfort for Your Employees:
Average Miles Walked Per Year:
Average Person: 390 – 520 miles
Health Care Workers: 910 – 1,170 miles
Farmers & Tradesmen: 1,300 – 1,560 miles
Most important benefits in the industrial environment are:
Better support, more comfort
Improved stability & posture
Reduction in foot & joint pain
Happier workforce & fewer lost production hours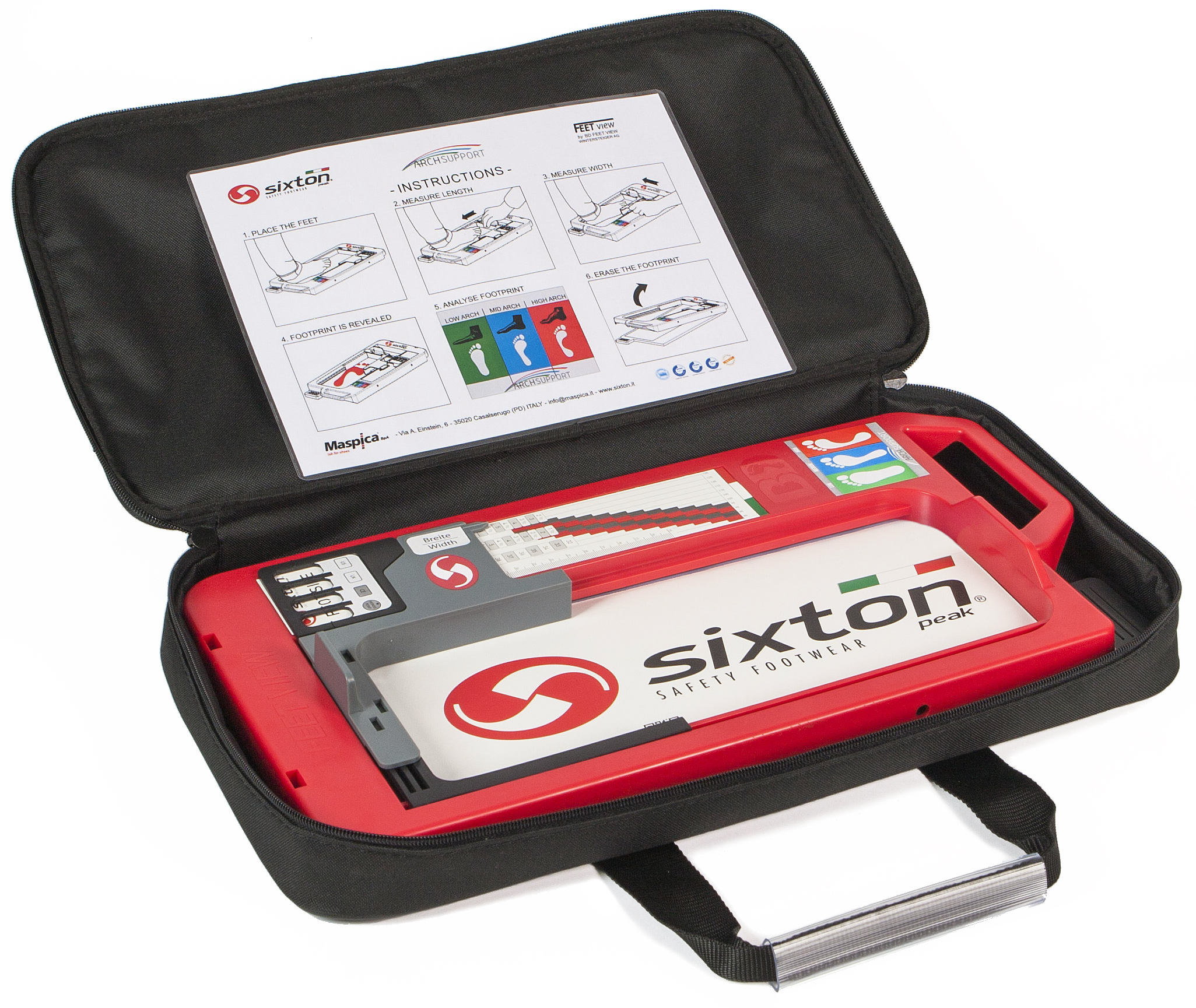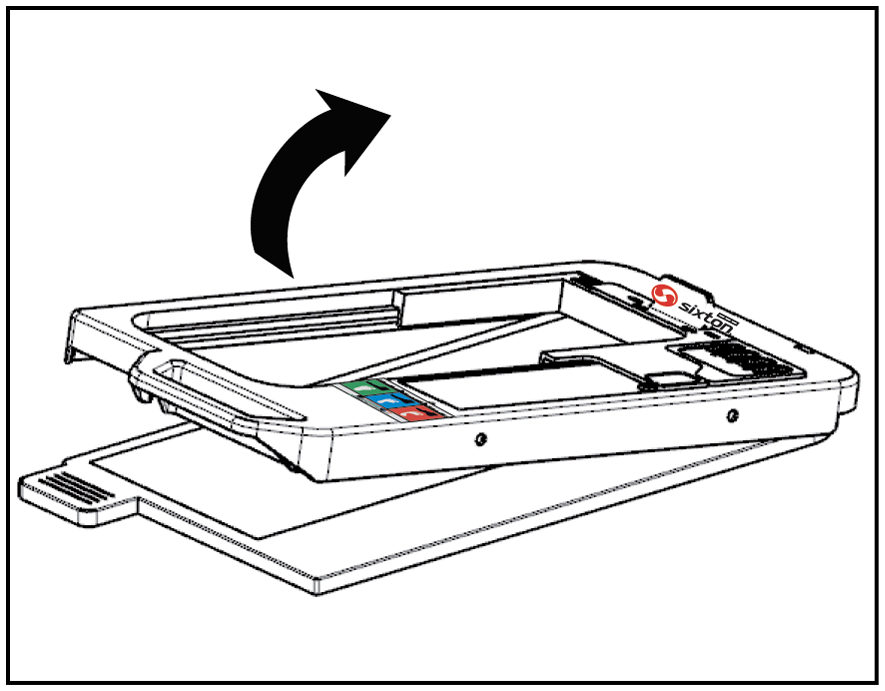 A
Open the Feetview unit by using the red handle and lift up, and take off the protective cardstock sheet with the Sixton Peak Logo, leave the white paper underneath and the blue top film stays in place. Try pressing it with your finger or the palm of your hand, and you'll see you'll leave the print. Erase your test print by opening it back up.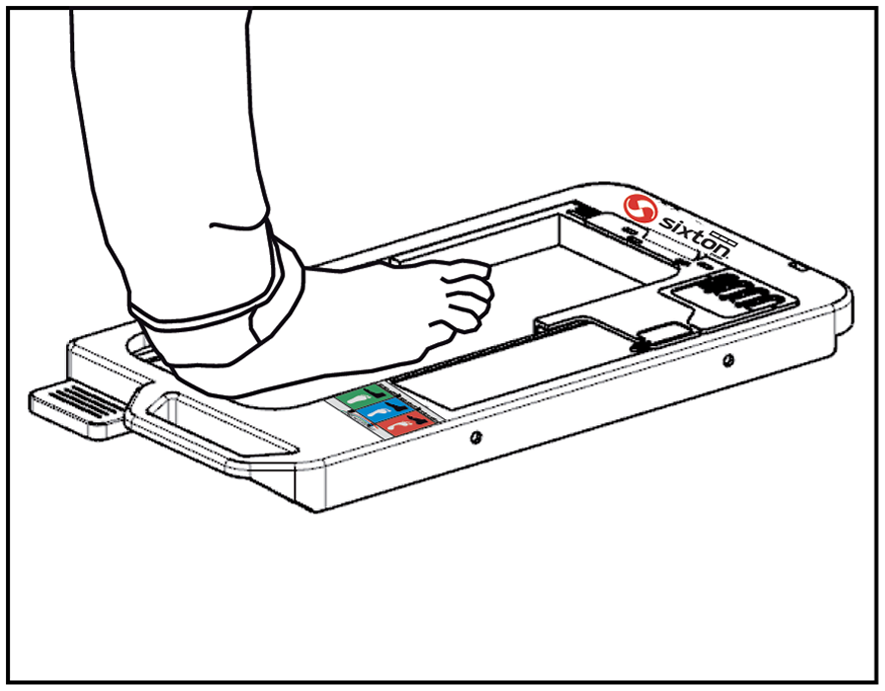 A
Place it on the floor, take the shoe off your foot of choice, and place the back of your heel to the back of the Feetview, so that the outside of your left foot or inside of your right foot, is parallel and tangent to the left side of the red plastic frame of the Feetview.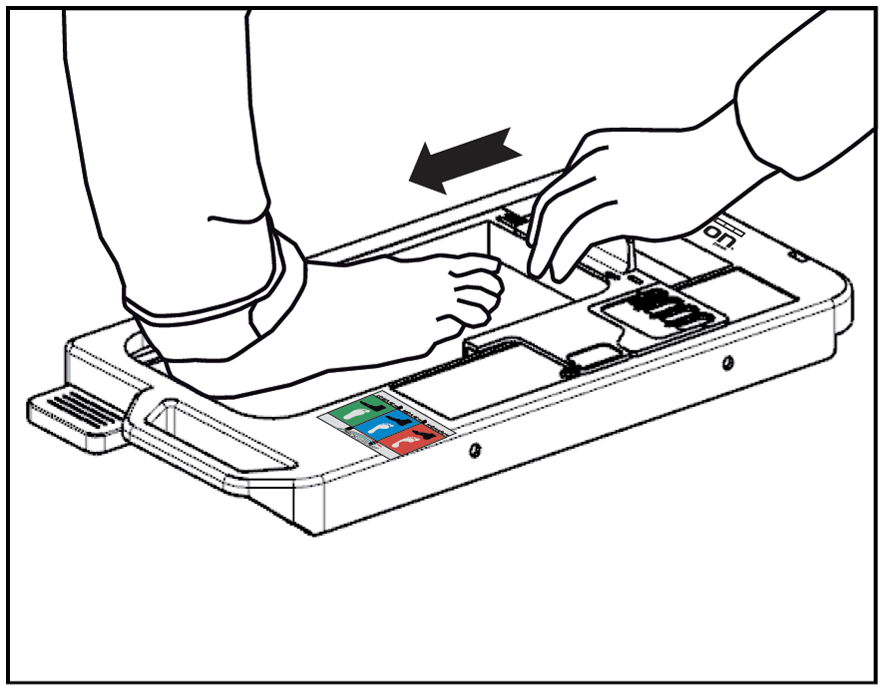 A
Stand straight and load your weight on the foot. Use the grey tab at the top of the unit to push down the grey plastic so that your foot is perfectly framed. This measures the length of your foot.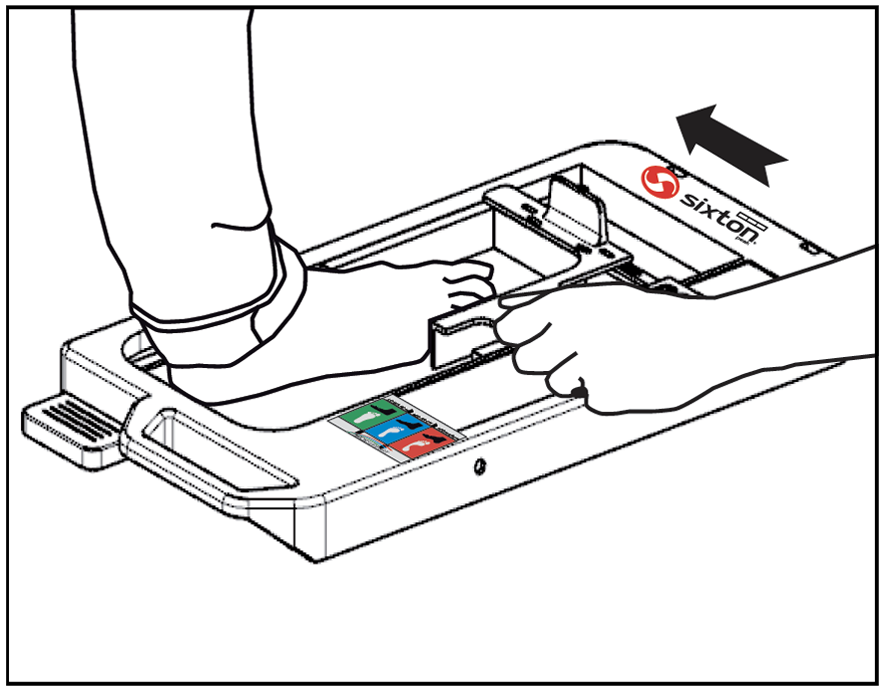 A
Use the grey tab that's on the side to push the grey plastic to the edge of your foot. Follow the grey lines on the side to read the width of the foot, given in millimeters.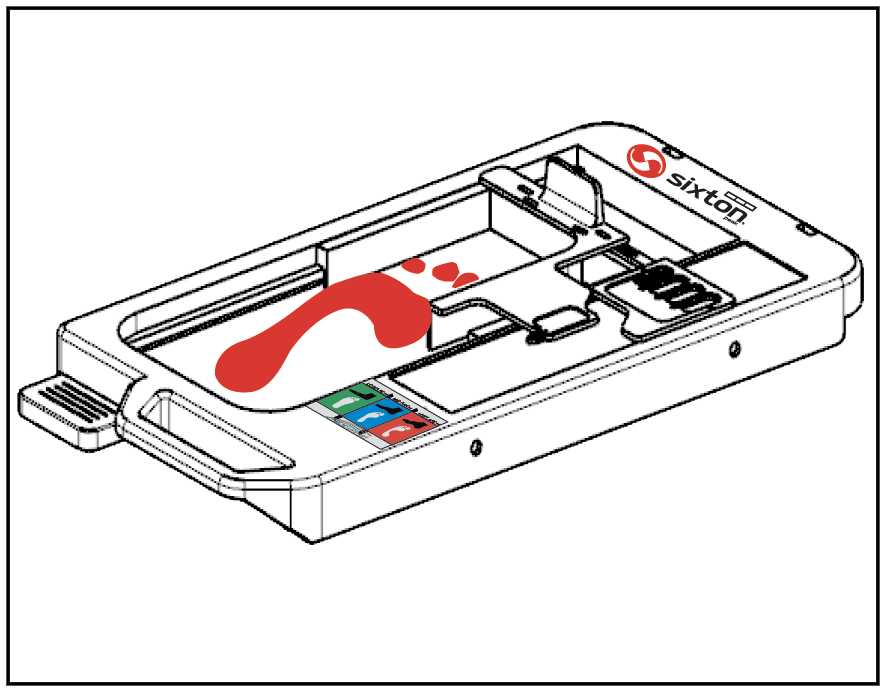 A
Open up, and free your foot. The print of the foot plant will be clearly impressed on the blue film.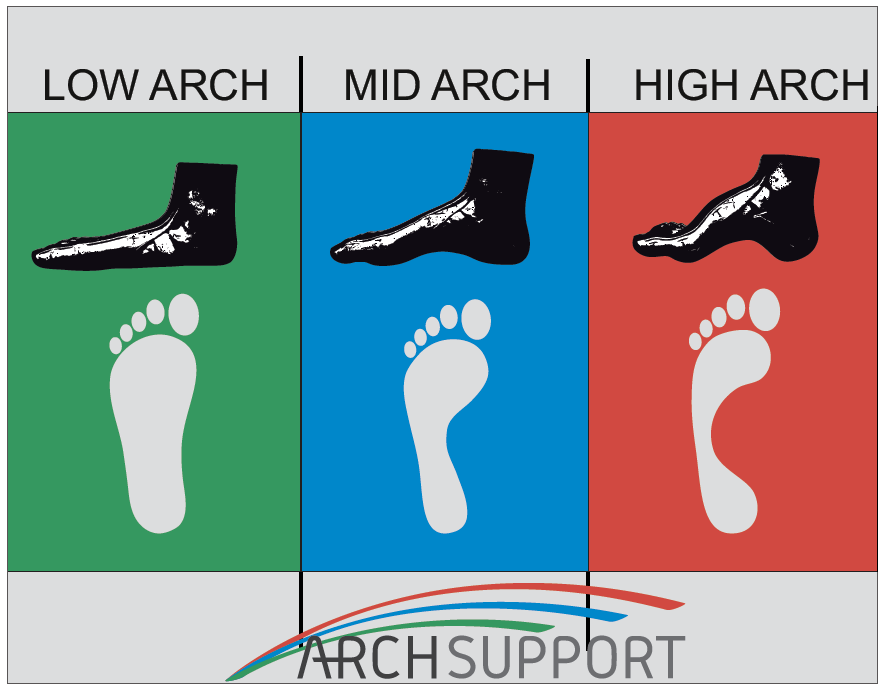 A
You can use the footprint to determine whether the person has a high, low, or medium arch height.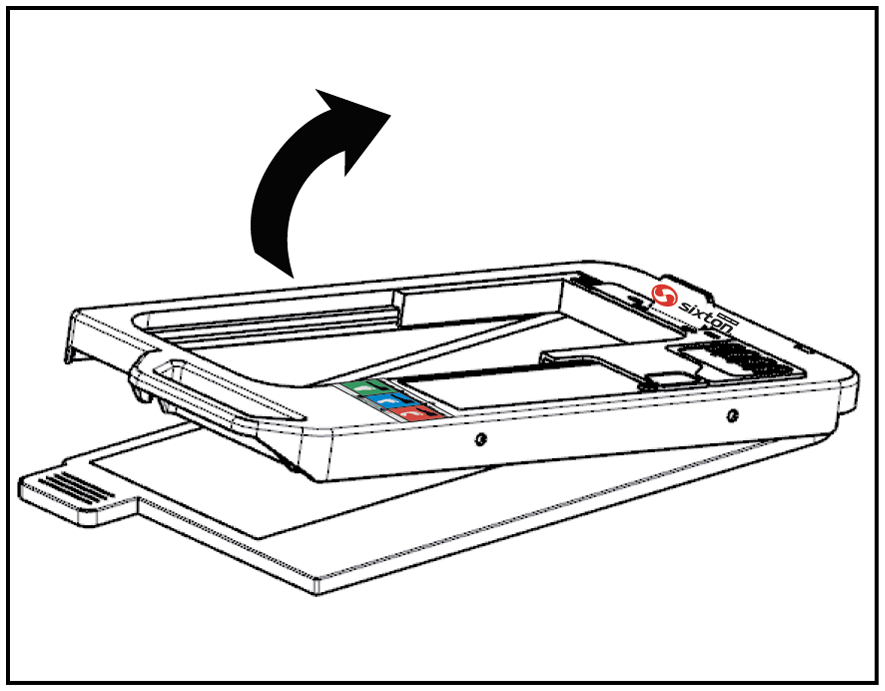 A
Open, and erase, and its ready for use again. Both the white paper and blue sheer film can be easily cleaned with any sanitizing wipe you can find on the market, and can be replaced if necessary.
Insole Arch Supports with anatomic foot arch in 3 different heights to efficiently support and absorb impact of different foot shapes in a uniform yet personalised way.
A