Features & Benefits
Our proprietary technology platform ViroSan™, which resides on the glove coating is designed to prevent the proliferation of viruses which deposit on
the glove.
Our LIQUItech® technology platform provides a liquid proof barrier which in the case of MaxiDex, enables it to pass EN ISO 374-5, for viruses.
Designed and developed to mimic the natural contours of the hand, to deliver outstanding flexibility, dexterity and tactile sensitivity.
Unique ADAPT® technology keeps hands cool, dry & productive
Environments
Industries
Automotive
DIY
Facilities
Garden
General Handling
Light Assembly
Logistics
Oil & Gas
Pharmaceuticals
Shipping & Ports
Utilities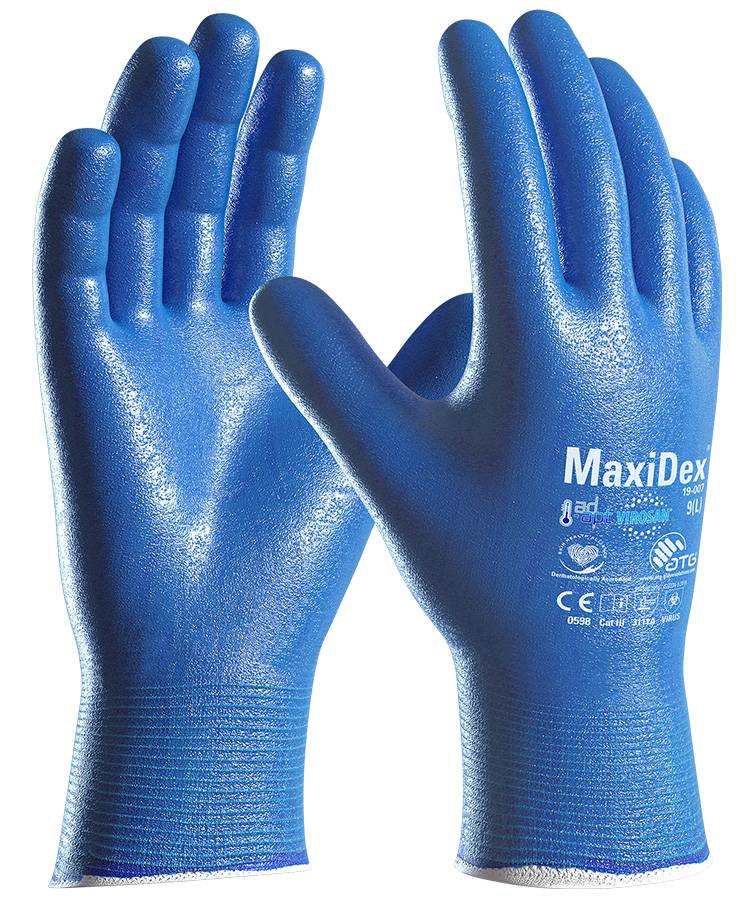 TECHNOLOGIES INSIDE THIS GLOVE
 
KEEPING HOT HANDS COOL, DRY AND PRODUCTIVE
The AD-APT® Technology is activated by the movement of your hands and increased temperature within the glove, releasing a natural cooling agent that keeps your hand dry and make them cooler. It's designed to last for the duration of the glove and can be laundered.

Enhanced glove hygiene for your hands to work in
ViroSan™ is designed to prevent the proliferation of viruses which deposit on the glove and has also been successfully tested against NL63, a human strain of covid. It resides on the glove coating via our proprietary technology platform. ViroSan™ provides enhanced glove hygiene for your hands to work in.

FOR REDUCED HAND FATIGUE
Form, fit and feel – mimics the "hand at rest", reducing hand fatigue and increasing comfort.
Latest knitting technology – utilized to produce smooth and rounded fingertips, improving fingertip sensitivity.
Consistent liner penetration – from the nitrile, leaving only the soft liner resting against the skin.
 
For protection against oils, liquids and chemicals
Our LIQUItech® technology platform provides a liquid proof barrier which in the case of MaxiDex, enables it to pass EN ISO 374-5, for viruses.
 
FOR A GENTLE GLOVE EXPERIENCE
We use our HandCare® Program for every single ATG® product. Not only do we make certain that all the elements used in our manufacturing process are safe for our employees, we also wash all the gloves after the production process as a further step in ensuring cleanliness. During this laundering process, we only use water that is rain-harvested, treated and continually recycled from our own water treatment facilities. This enables us to guarantee our gloves to be "Fresh out of the pack" which is certified by Oeko-Tex® according Standard 100.
And if that wasn't enough our gloves are also dermatologically accredited by the Skin Health Alliance. The Skin Health Alliance seal gives, for the first time in the safety industry, professional glove users the confidence that ATG®'s full range of gloves are "dermatologically safe" and the science and research behind them is robust.
Of course our whole manufacturing process is in line with the requirements of the European REACH Regulation (Registration, Evaluation, Authorisation and restriction of Chemical Substances). We do not use any SVHC during our manufacturing process.