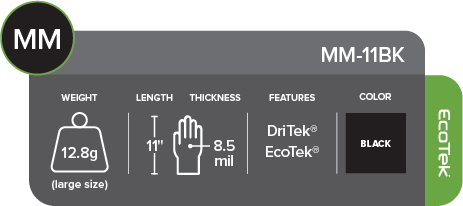 The advanced comfort of DriTek® sweat management, biodegradability of EcoTek® and unprecedented strength in fully textured, 11″ extended cuff glove. Megaman® features a multi-layer moisture-wicking construction with EN level 3 Abrasion resistance for the ultimate in comfort and performance.
Features & Benefits
DriTek® Comfort Technology layer for moisture-wicking comfort & easy donning
EcoTek® Biodegradability Technology accelerates landfill breakdown without any performance loss*
Multi-layer technology delivers EN level 3 Abrasion resistance for durability and extended wear
Fully textured grip pattern provides excellent wet & dry drip
1.5 AQL offering high-performance protection
Last up to 3 times longer than conventional nitrile gloves
Skin Health Alliance accredited
Touchscreen compatible
*Under test method ASTM D5526-12, a standard test method for determining anaerobic biodegradation of plastics in accelerated landfill conditions. Current biodegredation results do not predict future results.
Environments
Oily or Wet Environments
Dry Environment
Chemical Environment
Industries
Aerospace
Agriculture
Automotive
Chemical
DIY
Fabrication
Facilities
Food
Janitorial
Light Assembly
Maintenance
Pharmaceutical
Utilities
Waste Management
| | |
| --- | --- |
| Construction | Nitrile |
| Colour | Black |
| Finger Thickness | 0.26mm |
| Palm Thickness | 0.22mm |
| Cuff Thickness | 0.18mm |
| Length | 280mm |
| Tensile Strength | 17MPa |
| Elongation | 560% |
| Sizes | 7 (S) – 12 (XXXL) |
| Watertight AQL | 1.5 |
| Powdered / Powder Free | Powder Free |
| Box Qty | 50 Gloves |
| Case Qty | 10 Boxes |
Standards & Compliances
EN 388:2016 3000X
EN 374-1:2016 Type B – JKT
EN ISO 374-5:2016 – Virus
EN ISO 21402:2020
EN 455-2000-2015
ASTM D6319-19
ASTM D6978-05 (2019)
ASTM F1671-13
ASTM F739-12
Reach EU 1907/2006
EU 2016/425
ANSI/ISEA 105-2016
Cat. III Complex Design
FDA 21 CFR 177.2600
Food Approved: Yes
CE 0493
Skin Health Alliance Approved
Tested for Use With Chemotherapy Drugs
Tested for Use With Fentanyl & Simulated Gastric Acid
TECHNOLOGIES INSIDE THIS GLOVE

DriTek from SW Safety Solutions is a flock lining that provides a moisture-controlled environment, keeping hand irritation to a minimum. But comfort isn't the only thing DriTek provides. It also offers superior abrasion and puncture resistance and improves grip for better handling of small parts and slippery objects.
Excessive, prolonged exposure to moisture makes skin more susceptible to a number of harmful conditions-redness and chapping being the most common–that can lead to more serious inflammation or even infection if skin becomes severely compromised. Single use (SU) gloves with an interior moisture-wicking layer help both prevent irritation as well as provide a safer environment for skin to heal if it has experienced any trauma that left the skin surface compromised.
Managed moisture means less friction and dermal integrity is maintained, allowing the skin to retain its natural protective qualities and serve as a barrier from harmful elements. When that natural barrier is compromised, skin is more susceptible to dermatitis, since bacteria, chemicals and other irritants are more likely to pass through the outer skin layers and be absorbed quicker.
The flock lining provides a better interior environment that translates into less frequent glove changes. Your glove becomes like a second skin instead of feeling like a sticky mess that inhibits your job performance.
The unique process SW Safety uses allows the glove to remain thin, so as not to impair job performance, while adding strength and durability to the glove to ensure glove integrity as well as a secure fit.
Users no longer need to don a cotton liner in addition to a single use glove. DriTek integrates these two layers into one glove that provides significant productivity benefits as well as a better managed occlusive environment.
SW EcoTek Biodegradability Technology:
EcoTek is an important technology SW has developed in support of global sustainability initiatives. The new technology dramatically accelerates biodegradability of our nitrile gloves ultimately in landfills.
Gloves are the Same, Only Better:
SW nitrile gloves updated with EcoTek Biodegradability Technology deliver the same performance and comfort as the non-EcoTek gloves, but are rapidly biodegradable in landfills.
Rapid Biodegradability:
SW nitrile gloves with EcoTek biodegrade in landfills through the action of naturally occurring microorganisms. Long term landfill biodegradation testing according to ASTM D5526-12 has reported 92.6% biodegradation of our gloves with EcoTek in only 945 days. Non-EcoTek nitrile gloves exhibited virtually no degradation (up to only 1.1%) during the same period. ASTM D5526-12 test results do not predict future biodegradation.
Contribution to Global Sustainability:
SW's EcoTek Biodegradability Technology ultimately reduces waste, saving valuable landfill space by facilitating the breakdown and return of nitrile gloves to nature in timeframes that can be measured in months and years rather than centuries.